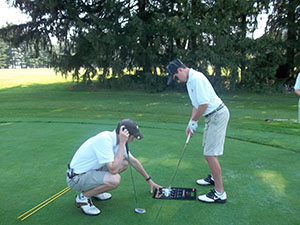 Junior golf equipment has come a long way in the past ten years. Gone are the days of used adult clubs that were cut down for junior golfers. It is fine to get a 2 or 3 year old child started with some simple plastic clubs, but as kids get older, they need a set of golf clubs that are made with their body in mind. Today there are several manufacturers making clubs specifically for juniors. Even with all these different types of clubs to choose from, there still are a few important things to consider when buying junior clubs.
Length is the first consideration. The key is to find a set of clubs that is the right length for the junior golfer, but also a set that the junior can grow with. Remember that it is all right for the junior to choke or grip down on the club. You just don't want them to move their hands down the grip too much. The basic rule is this: if the junior is choking down more than 1 ½ to 2 inches, he or she is choking down too much. If they choke down more than 2 inches, the club is too long and they may form habits that may be difficult to change. A set of clubs where the junior only has to grip down an inch, allows them to make a normal swing at the ball and probably get two seasons out of the clubs. Try not to let your junior play with a driver that is too long. At some point they're going to try and play with an adult driver before they're ready. A driver that is too long can lead to timing problems and coming into the ball at a flat angle which makes it hard to hit the ball on the center of the face.
The next consideration is shaft flex. The main problem with the old cut down set of golf clubs is the stiffness of the shafts. When you take 4 to 5 inches of length off a golf club, you make the shaft extremely stiff. This is the reason that junior golfers can't hit the ball high with a cut-down set of clubs. One benefit of new junior sets is that the manufacturers are making shafts that are the right flex for a kid's swing speed. Using light-weight steel and graphite has made junior golf clubs more playable. The shafts of junior clubs today are so flexible that you can bend them with your hands. So check and make sure that your child's set of clubs has a nice flexible shaft.
Does your child need to be professionally fit for clubs? The general rule is that until they are 60 inches tall, they'll be fine with a set of junior clubs from a good manufacturer. After they reach 5 feet, experienced junior players really benefit from having each club fit for their game.
The weight of the golf club is also very important to junior golfers. If the club is overly heavy, the child will struggle to take the club to the top of the back swing. The struggle to get the club back causes a manipulation of the swing that will result in inconsistent shots. A lighter club will help the junior get the club in the correct position at the top and lead to an easily repeatable swing. Just like with shaft flex, most club companies make junior clubs with lighter heads and shafts. So before you buy, just make sure you check the weight of the club and make sure it fits your junior's age.
The size of the grip is also important. Grip size for kids is a new thought in the last few years. In the past, clubs were cut down and any grip that fit the shaft was put on. The problem of oversized grips is the same for kids as adults. If the grip feels like a baseball bat, it's going to change the swing mechanics. Look for junior grips on their new set of clubs. If you're changing grips ask for junior grips with a core of 0.50. These thinner grips will make a difference in your kid's game.
There are now golf balls made for juniors. Here is the general rule for kids and golf balls. Most juniors swing speed is less than 80 MPH, so they can't handle a lot of the balls on the market. US Kids Golf makes 2 balls for juniors. One for kids with a swing speed less than 70 MPH and another for swing speeds around 90 MPH. These balls offer a softer core and more spin to keep the ball in the air and results in more distance. Other than US Kids, a ladies ball will help a lot of juniors that don't produce a lot of speed.
Lastly, how many clubs does my kid need? Most experts agree that if a child starts at an early age, 4 or 5 years old, they need 2 clubs to start… a putter and a pitching wedge. Why a wedge instead of a driver? Because the length of the pitching wedge is short and it's easy to get in the air. Longer clubs are obviously harder to get airborne and can lead to frustration. As the junior progresses, add a 7 iron, then a hybrid, and then a 3-wood or driver. Those 5 clubs will get him/her through the first couple of years of golf. Once the junior has enough swing speed to make a noticeable difference in distance between irons, then they need 10 or 12 clubs in the bag. As a general rule, this usually happens around 10 years old for experienced juniors.
As adults, we realize how tough golf can be and how much the right equipment can help our games. By keeping these considerations in mind when buying junior golf equipment, you can help your junior play better golf, and more importantly have more fun on the golf course.
Article Prepared by US Golf Camps – The Ultimate Junior Golf Camp Experience www.usgolfcamps.com