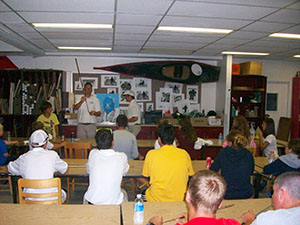 Today, the golf business is a multi-billion dollar industry with a host of growing companies eager to service an increasing level of play throughout the world. Almost every person who works in the golf industry originally became interested in playing golf and then followed their passion into an associated business.
The growth of the PGA Tour over the past decade has brought a startling explosion of interest in the game and its product. For those individuals with the talent to succeed, the PGA, LPGA and Nationwide Tours offer a place to showcase their games. Each new generation produces its stars and the proliferation of college golf programs attests to the attraction the PGA Tour has among today's youth.
However, the PGA and LPGA Tours are not the only places that offer opportunities in the golf industry. The PGA of America is an association of over 26,000 members who manage the daily operations of golf facilities around the world. PGA and LPGA members are heavily involved in the promotion of golf to the public through instruction, tournaments, merchandising and operating local grass roots golf programs. Members serve an apprenticeship in order to learn the skills needed in the golf industry. The Golf Professional Training Program (GPTP) is a three-year program developed by the PGA of America to train people interested in club professional positions as a career. Contact your local PGA Professional or the PGA of America to learn more about the GPTP.
For those students looking to get a head start in the golf industry, there is the Professional Golf Management (PGM) degree. PGM programs are currently available at 20 different schools. To learn more about these programs, contact the PGA of America (www.pga.com). Graduates of PGM programs receive specialized training in golf industry specific skills required to work within the game.
There have also been many changes in the maintenance of golf courses around the world. Agronomy, design, construction and care of golf courses have created a need for individuals to oversee maintenance programs. The Golf Course Superintendents Association of America (GCSAA) is the premier organization of highly trained people who are responsible for the care and maintenance of golf facilities worldwide.
The golf industry is also full of opportunities for people with business skills. Hundreds of companies create thousands of jobs for those with the right skills. Employers are looking for staff with marketing, management, and sales and support skills for their companies. College level business degrees are valuable in the preparation for any of these careers.
The opportunities for careers are being created daily and can be exciting and fulfilling. Talk to your PGA Professional to find out more about a career in the golf industry.
Some Important Numbers
PGA of America (561) 624-8400
GCSAA (913) 841-2240
LPGA (904) 274-6200
Professional Golfers' Career College 1 (800) 877-4380
Article Prepared by Frank Mantua, PGA Professional & Director of Golf
US Golf Camps – The Ultimate Junior Golf Camp Experience
Visit our website at: www.USGolfCamps.com