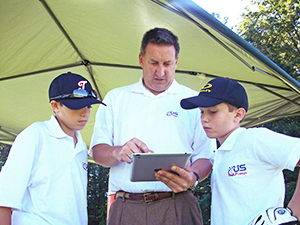 One of the best things about the game of golf is that players from all levels of experience and ability can play and compete together. Back in 1912, the United States Golf Association came up with a handicapping system that allows players to compete against each other fairly. This system involves taking your last 20 scores for 18 holes. Your best ten rounds are then averaged and you are given a handicap index. The difficulty of the golf courses you played is also taken into consideration. The USGA gives each course a slope and course rating. The higher the slope and course rating are, the harder the golf course. The harder the golf course, the more strokes you will receive. This keeps the whole process fair and also rewards you for playing well on a difficult golf course.
Your handicap index is not how many strokes you are going to get when you play a round of golf that day. Your index is a starting point to figure out how many strokes you will get when playing against the other players in your group. As noted earlier, the difficulty of the golf course is also considered. So let's say you play your 20 rounds of golf and the best 10 are averaged. You then have a handicap index. Your index turns out to be 20.1. If you play a difficult golf course you may receive 23 strokes that day. Now compare that to playing an easy golf course, where you may only receive 18 strokes. The good thing about having a handicap index is that you get exactly as many strokes as you need to make the game fair on any golf course. The golf courses usually have a chart in the golf shop that tells you their course's slope and rating, as well as a table that tells you how many strokes each player gets depending on their handicap index. If you have any questions you can always ask the golf staff for help.
Now that we know a little about how a handicap is calculated, what's the easiest way to get a handicap index? The first place to try is your local golf course or country club. For a small fee, the golf club will allow you to keep your scores in their handicap system. You play a round of golf and keep your score. After the round, enter your score into the system. Remember that along with your 18-hole score, the computer is going to ask you the slope and rating of the course you played. The easiest thing to do is to keep the scorecard from the course. Most scorecards have the slope and rating on them. Once you get 20 scores in the system, you have an official handicap index that can be translated to any golf course you play.
If you can't find a golf club near you to keep your handicap, there are some other options. Many companies offer a phone "app". Note that many of these "apps" are not considered official by the USGA.
Now that you have a handicap index you can play fair golf with anyone. Some matches you'll be getting strokes from your opponents and other you'll have to give stokes to your opponent. Either way you can play with other players on a level playing field no matter what their talent level may be. But most importantly, remember to play by the rules, count all your shots, and have fun.
Article Prepared by Frank Mantua – US Golf Camps
www.usgolfcamps.com