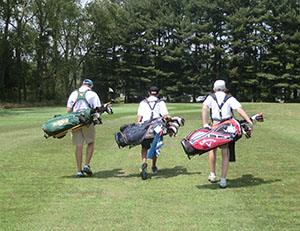 Finding opportunities for junior golfers has become easier in the last few years. The golf industry has made a collective effort in this area. Parents just need to know where to look. Information needs for families with junior golfers vary based on the individual's ability, goals, age, etc. What follows is a summary of opportunities for junior golfers at various levels.
BEGINNER – INTERMEDIATE:
Golf is a little different than other sports when it comes to finding an interested junior a place to start in golf. The bigger sports, such as baseball or football, have local leagues where interested kids can sign up through a recreation department or their local school. Golf has never really had one large junior golf league that kids can go and sign up. Rather it's historically been local golf courses or recreation departments that offered a junior clinic or two. In the past few years, things have gotten easier for aspiring junior golfers looking for access to the game. Here are a couple of ways that you can find a junior program for your child to start playing.
The first thing parents can do is find their junior a local golf program. Information sources have really progressed in the last few years in this area. With the help of the internet, getting a beginning golfer involved in a program is relatively easy. There are a couple of national golf databases on the web where you can search for a local program. The best is www.JuniorLinks.com. JuniorLinks.com is the result of all the major golf associations coming together for this very purpose. JuniorLinks has a database that a parent or child can search for a program by city and state. This site is very helpful and gives a lot of information about each junior golf program – such as, price, location, number of participants, and dates. The JuniorLinks website also tells whether the programs are run by a PGA or LPGA Professional. As you'll see when you browse through the database, many of these programs are very affordable and some are even free.
After kids have been playing golf for a little while, the next logical step is to get professional instruction. Finding a local instructor is also easier than it used to be. Both the PGA of America (www.pga.com) and the LPGA (www.lpga.com) have databases on their websites where you can find a teaching professional in your area. You can also search for instructors that specifically focus on junior golfers.
ADVANCED – TOURNAMENT PLAYER:
One of the great things about golf is that it's a very social game, but it can also be very competitive. Many juniors enjoy playing in tournaments and over the past several years, more and more junior golf tournament associations have been started. A great way to find some competition in your area is on www.juniorgolfscoreboard.com. This site is a nationwide tournament search engine. It gives all the information you'll need to decide what tournaments are right for your golfer. Plus, it also lists the results from the events. It doesn't have every junior golf tournament in the country listed, but it has a lot. You should be able find at least a 3 or 4 that are close to you.
COLLEGE GOLFER
Lastly, and this may be a long ways off for a beginning golfer, but there is a site that lists all the college golf programs in the US. This comprehensive site is www.collegegolf.com. It lists which schools have programs for men or women, the cost, size, conference and much more. It's never too early to start preparing.
I hope these few tips will help you with your search for junior golf opportunities. Over the last for years, the golf industry has worked very hard to make golf information available to all kids. With only a little time searching, you should be able to find opportunities for juniors at all levels.
Article Prepared by Frank Mantua, PGA Professional & Director of Golf
US Golf Camps – The Ultimate Junior Golf Camp Experience
Visit our website at: www.USGolfCamps.com