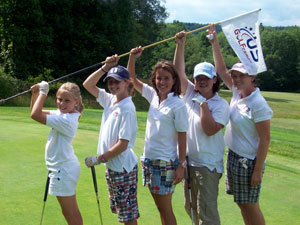 By now a lot of parents that have a daughter have heard about the tremendous opportunities for girls to play college golf. There are currently 217 Division I and 90 Division II colleges that offer girl's golf scholarships. The NCAA estimated that last year 250 out of approximately 1,800 girl's golf scholarships went unused. That sounds crazy and leaves you wondering why.
The simple reason is that there are not enough young girls playing golf. With the implementation of Title 9, colleges are required to have the same numbers of athletic scholarships for females and males. This provides a huge opportunity for female golfers. Furthermore, throw in the fact that a Division I women's college golf team can have up to six full scholarships for girls (5.4 scholarships available in Division II), while only a maximum of 4.5 for boys (3.6 scholarships available in Division II). Usually these scholarships are split between all the members on the team, but you can see it's a lot easier to get close to a full scholarship as a female.
With all this opportunity, what does your daughter need to shoot to play at the college level? If a high school girl can shot around 90 in tournament conditions, college is a possibility. If she's in the 80's, there will probably be some money available. Keep this in mind – if a female golfer has a scoring average under 80 in college, she is considered an excellent player. Remember, that is for Division I golf. There is also Division II, III and the NAIA. So you can see, scoring for females in college is very different than males.
Knowing all this, how do you go about getting your daughter noticed? In the past many high schools didn't even have a team for the girls, if a girl wanted to play golf they would have to play and compete with boys. Fortunately, things are changing and more schools provide a girls team. Most high schools girls are not going to be recruited unless they are one of the better players in their area. Golf is not like football or basketball where coaches travel to see players play. In golf, you have to go find the coach at the school you would like to attend. Most women's golf coaches only work part-time and can't devote much time to recruiting. Pick a few schools that your daughter would first like to attend just for school and then contact the coach. Keep in mind the non- golf factors such as school size, cost, reputation, etc. She should keep track of all her high school and junior tournaments and put them in a golf resume. Coaches want to see what kind of competition she has been playing and on what type of courses. Grades are often as important as the golf, so stress the academic achievements as well. Email the coach during her freshman or sophomore year and remember that the coach can't actually recruit her until her junior year.
For younger girls, the best thing to do is to keep playing. When girls turn 12 and 13, they typically lose their interest in all sports, not just golf. If you can keep your daughter playing through high school, then the college opportunities will take care of themselves.
Article Prepared by US Golf Camps – The Ultimate Junior Golf Camp Experience
Visit our website at: www.USGolfCamps.com