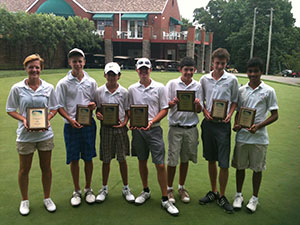 Over the last 20 years, the number of junior golf events in the United States has doubled each year. Junior golfers at any age now have many opportunities to play competitively. The American Junior Golf Association (AJGA) has been the leader and most competitive junior golf tournament series for the past 20 years. With alumni like Tiger Woods, Phil Mickelson, Michelle Wie and Paula Creamer, it's easy to see why the AJGA is known for producing strong players. A recent survey showed that 98% of AJGA players went on to college and nearly 75% of the players received some type of athletic scholarship. So as you can see the best juniors in the country are playing in AJGA events. If you play at that level, college coaches will come find you. The main thing to remember is that not all college players played in the AJGA and there are a lot of other tournaments that will get you noticed.
For new junior golfers, the place to start is at the local level. Hopefully, your local golf course has a junior golf program where kids can get some basic instruction and competition. There are also many golf camps and schools where juniors can go and get instruction as well as some competition with other junior golfers from all over the country. Once the junior golfer has received some instruction and is ready to start playing some tournaments, look locally for some events. A good place to start is your city or county. There are more and more junior golf tournament associations popping up all over the country. Hopefully there is one within driving distance.
After having some success at the local level, it's time for the junior to move on to the regional and state level. Each state has a state golf association. These associations run junior events. Another good regional tournament association is the PGA of America's section offices. Each section of the PGA runs a strong tournament program. If a junior is fortunate enough to have some success at the regional level, the next step is some national events.
Here is a list of regional and national golf associations that college coaches consider strong tournaments:
Regional:
PGA of America Sections (www.pga.com)
State Golf Associations
Regional Golf Associations' Junior Championships
City Championships
High School Tournaments & State Championships
Local Country Club Inter Club Matches
National:
United States Golf Association (www.usga.org)
American Junior Golf Association (www.ajga.org)
Future Collegians World Tour (www.fcwtgolf.com)
International Junior Golf Tour (www.ijgt.com)
PGA Junior Series (www.pga.com)
Plantations Junior Golf Tour (www.pjgt.com)
Golf Tournament Series (www.juniorgolf.org)
Southeastern Junior Golf Tour (www.sjgt.com)
There is also a good website that lists many of the local and regional junior events in each state: www.juniorgolfscoreboard.com
The following guide is simply to help parents and juniors determine what level of play each player is ready for:
Level 1 – Local Level
Tournaments
Tournament 18 Hole Scoring Average
Boys – 110 & below
Girls – 125 & below
Local Golf Course & County Club's City and County Associations
Level 3 – National Events
Tournaments
Tournament 18 Hole Scoring Average
Boys – 78 & below
Girls – 84 & below
USGA Junior Events
National Events such as AJGA
Article Prepared by US Golf Camps – The Ultimate Junior Golf Camp Experience www.usgolfcamps.com